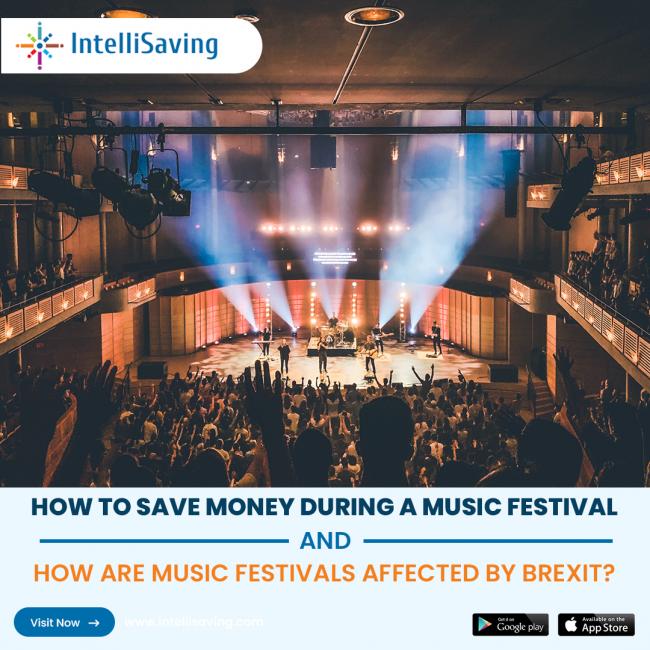 How to save money during a music festival and how are music festivals being affected by Brexit?
Music was my refuge. I could crawl into the space between the notes and curl my back to loneliness - Maya Angelou
Music festivals and concerts are attended worldwide yearly, as they allow fans to get together to groove and listen to artists. According to a 2019 Statista study, music concerts and festivals in the United Kingdom saw a minor increase in attendance to music events in 2019, which reached just under 34 million, as there was a rise in the number of people attending festivals with more than 5 million people.
The increase in attendees in 2019 was expected to see an increase in spending from festival goers, with London taking centre stage with the most significant amount of tourist spending statistics in 2019.
Despite the yearly increase in ticket prices at popular music festivals such as Glastonbury, it did not seem to deter music fans as fans continued to splurge the cash.
Moreover, most people waited until three-quarters of a line-up was announced before parting ways with their festival cash.
In addition, the same 2019 study also found that a significant number of music fans had seen an artist at a gig or festival that they had not previously heard of, with nearly 10% revealing they had watched an unknown artist in the past week.
The following year was a year that most would never forget as Covid-19 officially made its presence known as covid 19 began in 2019 but unleashed a whole wave of havoc in 2020 and the years that followed. Covid-19 resulted in the economy closing, various lockdowns and gatherings of big crowds being prohibited because of the pace in which covid was spreading.
However, in the summer of 2022, the complete programme of festivals was reinstated from the likes of Glastonbury to Download. Nevertheless, music event organisers now face a new set of challenges with the UK leaving the European Union; as a result, British events now want support.
One of the main challenges that Brexit has caused to the music industry is that bands of every size are now required to have a carnet which is an international customs document which allows them to travel between the UK and EU with all their equipment; this can set them back a minimum of £600 or more.
The rising expenses and paperwork for British bands also apply to EU bands wanting to perform in the UK, as they face the same obstacles.
Performers from the US for the European festival season are also facing the same challenges and are contemplating if adding British events is worth adding to their agenda. The regulations and rule changes have meant that the UK is missing out on world-famous acts at UK festivals as they are skipping the UK to avoid the extra legwork.
How to prepare for a music festival?
Set a budget

Setting a budget is a vital part of any saving goal so that a clear picture can be had of your finances.

What is required for a budgeting plan?

Before starting a budget plan, you will need to calculate the amount you spend on household bills, other living costs, financial products such as insurance, bank charges or interest, and any money spent on family and friends such as lending money or purchase of gifts or travelling to events such as hen trips, forms of transport such as car expenses such as fuel tests, leisure, including gym membership, hobbies, cinema and other entertainment.

Open a savings account

Open a saving account that best fits your saving goal by researching and reading articles that give tips on what factors to consider before opening a saving account, such as how different saving accounts work, duration of saving goal, interest paid, and risks involved. Intellisaving has several valuable articles on saving accounts, such as How to choose the right savings account? | intellisaving.com.

Download a Savings app

Downloading savings apps such as Intellisaving are helpful to have to hand as they facilitate the tracking process of saving and ISA accounts for users wanting to save for emergencies or specific goals. Intellisaving also gives a detailed breakdown of balances, withdrawals and returns within the portfolio feature. And updates saving rates offered by different banks and financial institutes regularly on both the app and website.

Attempt a 'No spend' weekend

Set yourself a 'no spend weekend' once a month if possible. And go to free museums, make lunch at home, go for walks and the park, or have an indoor movie night where you can either view films with a company you subscribed to, such as Amazon prime or see films for free on YouTube. If you have leftover food, you can make a food makeover with ingredients you already have at home.

Volunteering could land volunteers a free ticket

If people volunteer to work at festivals, this can be quite cost-effective, but in return, you must work hard. Festivals are always looking to hire volunteers to assist with tasks such as wristbands at the entrance, selling programmes or cleaning rubbish.

You would get free access to the festival in return for your time. And sometimes, you could receive complimentary travel, accommodation, and food.

Take food from home to a festival

Food is one of the most significant expenses acquired during a festival. Take some light snacks and sandwiches to cut down the costs. Food stalls may also offer discounted food prices as closing time approaches, so keep an eye out for this.

Be mindful of overspending on expensive festival programmes

The festival programme can seem appealing but is generally expensive and unnecessary; however, with organised planning, you could save a few extra pounds by ditching the festival programme. Print out a copy of the line-up and a map from the festival website before making your way to the festival.

Take essentials

Take essentials such as a basic first aid kit, tissues, wipes, and painkillers so that if the unexpected hits, such as a minor injury or headache, you have it covered and will not have to fork out on extra expenses during the festival
Saving money for a music festival both before attending a festival and on the day of the festival are essential steps to take to increase the chances of attending a festival and being able to make the most out of the experience without having to stress that you have spent money that should have gone on bills and other essentials on your festival outing.
Attending a music festival is an experience worth experiencing at least once in life, and with proper preparation, this goal can be achieved, just like many other saving goals. Music, for most people, is a form of escape from the struggles of everyday life and a music event is another form of escapism and an opportunity to meet people along the way.