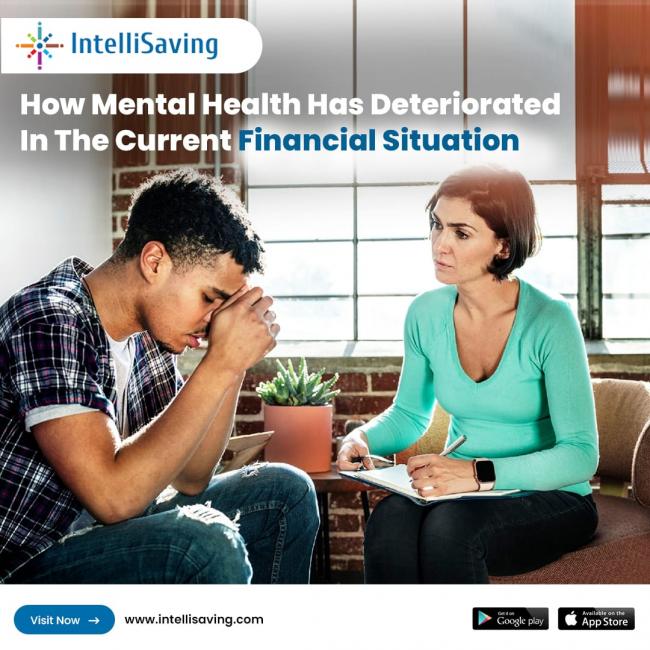 How Mental health has deteriorated in the current financial situation
"I am bent, but not broken. I am scarred, but not disfigured. I am sad, but not hopeless. I am tired, but not powerless. I am angry, but not bitter. I am depressed, but not giving up." — Unknown
The cost-of-living crisis is wreaking havoc on individuals' finances, causing mental health to deteriorate as people are concerned with how they will make ends meet and have no choice but to cut back on activities that positively impact them their mental health and therapy sessions. According to a BACP article, a survey carried out on 2,983 of their members revealed that 66% of therapists state that the cost of living significantly impacts mental health.
The findings of the survey also revealed that six in 10 (61%) therapists reported that their clients are concerned about whether they will be able to cover the costs of bills. The research also outlines some of the mental health problems which have been aggravated by the increased cost of living calamity, such as insomnia, in which 52% of therapists stated that clients were having sleepless nights because of financial woes.
The study also uncovered that 49% of clients say they are making cutbacks on activities that increase their mental well-being such as gym and sports club memberships. In addition, 60% of therapists have noted that clients are also cutting back costs on therapy sessions because of money concerns and 47% of therapists have revealed that clients are cutting back by cancelling or pausing sessions because of a continuous strain on their finances.
The money and mental health policy institute also surveyed nearly 300 members within the Research Community. In January 2022, the effect of increasing energy expenses was explored through a thorough assessment. Most partakers in the survey said that they made amendments to their daily living arrangements because of the rising energy expenses, and 81% said they trimmed down their energy usage.
A further survey was conducted in May with inflation continuing to rise and energy costs continuing to mount, the impact on people's finances was further tightened and found that 46% of respondents had deducted the number of meals they ate a day. And 20% had failed to maintain payments for a bill.
Research has also shown that among those struggling the most the households with the lowest salaries are struggling to keep afloat the most because of the cost-of-living crisis, as 7.2 million are unable to afford even essentials and 4.7 million are unable to keep up with bills. Because of this 2.9 million households have found themselves at their wit's end and turned to high-cost credit loans, including loan sharks, payday lenders, doorstep lenders, or pawn shops, half of which are in arrears.
In addition, 75% of households earning less than £26,570 are going without crucial necessities such as food and toiletries. Figures also showed that more than seven million households are going hungry by reducing meal sizes, skipping meals altogether, or not showering and using inadequate clothing.
Around 4.7 million are in arrears with a minimum of 1 household expense, which is a staggering increase compared to before the pandemic, which is almost three times higher now, plus the typical level of debt continues to be more than £1,600.
On the other hand, research conducted by the Office for National Statistics (ONS) explored the impact Covid-19 had on mental health, finances and everyday life, and found that people were still being negatively impacted by the COVID-19 pandemic in the run-up to April 2021, for instance, those who were self-employed were three times more likely to state that they had seen a deduction in salary and were also twice as more likely to rely on savings to pay for essentials compared to employees.
ONS also found that individuals within the lowest salary bracket, which is up to £10,000 per year, were more likely to state the challenging impacts this had on personal well-being compared to those in higher pay brackets, such as the pandemic amplifying their mental health (18%) and 32% reporting feelings of stress and anxiety.
In addition, individuals in the highest income brackets paid up to a maximum of £40,000 or more, were still more likely to report that the coronavirus pandemic had a damaging effect on their work, this group was also 6 times more likely to state that the pandemic had caused a deterioration in their professional relationships with colleagues, and those employed were two times more likely to find working remotely a challenge than individuals in the lower salary pay bracket.
The findings also unveiled that parents who were employed were less likely to be laid off since the start of 2021, which was not the case during the first phase of the lockdown, however, employed parents were more likely to reveal a reduced salary than those who were not parents, however despite the financial constraints parents sustained a verdict of feeling less lonely and reported better scores of feeling that they were conducting a worthwhile life.
Moreover, a consistent pattern emerged among those aged under 30 revealing that their wages had decreased in payment (15%) and those aged over 60 years (5%); nevertheless, there was a higher percentage of those under 30 years who stated they could save for the year ahead (50%) compared to older age groups (39%).
The perspectives on salaries and saving also seemed to vary; for instance, individuals with the youngest age group were not as financially robust as older groups, as 47% of those under 30 revealed they could pay for unforeseen expenses compared to 71% of those aged 60 and over, although more of the under 30s reported being able to save for the upcoming year.
The research conducted by ONS and other organisations such as BACP all found a significant link between mental health and financial constraints; people have been greatly impacted on an economic and emotional level. The fact that people must go without food, essentials and other activities that benefit their mental health because of financial limitations is deeply concerning as all these factors put a bigger strain on people's well-being.
Although the government has introduced schemes such as an Energy support scheme for most households to help with rising energy costs, this is a temporary solution expected to be in effect until March 2023. The government also introduced the energy price guarantee which limits the amount suppliers can charge their suppliers until March 2023. However, despite the support available, many households still struggle to make ends meet.
The money and policy institute proposed that the government introduce measures such as making Universal Credit and other support schemes easier to access. And permitting recipients of benefits to seeking support from friends or family to manage their benefits.
They also propose that firms are more considerate when sending letters, emails and phone calls to those in debt by being more supportive. They also believe that regulators should be held responsible when taking the steps mentioned and impose severe penalties on companies that disregard vulnerable customers.