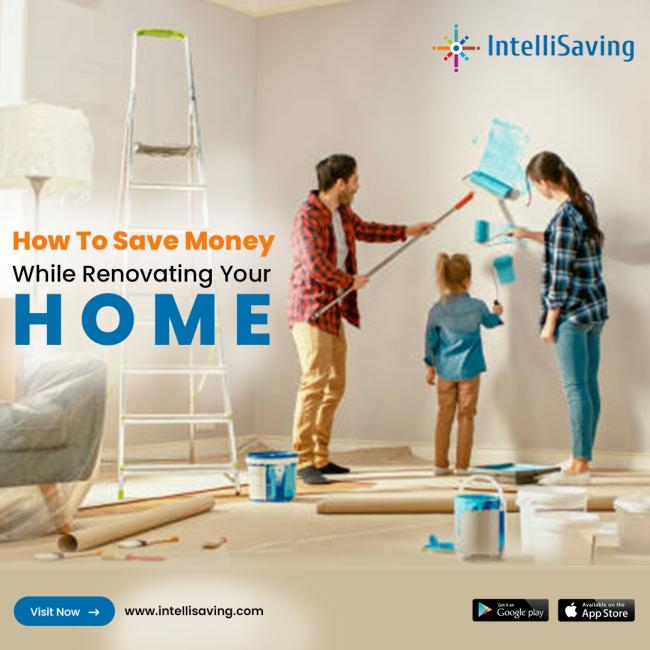 How to save money while renovating your home?
"Renovating: a process in which we tear down the walls of our comfort and rebuild to become better, stronger, and more beautiful than we were before"- Unknown
The cost of living has come at a high cost from every angle including higher mortgage rates which have been impacted by soaring inflation and the Bank of England increasing the bank rate to try to slow down the inflation rate. The increases in interest rate from the Bank of England is impacting mortgages because borrowing has become more high-priced. For instance, those who have a floating mortgage with rates bound to the Bank rate are likely to notice monthly payment increases.
According to the banking and finance sector representative for UK Finance, the typical rise for those on tracker mortgages will be £73.49 monthly and for those on standard variable rate (SVR) mortgages, it will be £46.22 a month.
Moreover, mortgage holders looking for new fixed-rate agreements are still likely to pay 6% more now for two and five-year deals because of the mini-budget upheaval where fixed-rate deals rose in price.
Therefore, experts have advised mortgage holders not to fix their rates, because of the ongoing interest rate insecurity and the cost-of-living crisis being worsened by this and other contributors such as the mini-budget which went belly up.
In addition, the typical household cost surged by 9.6% in the past year and has reached a colossal figure of £24,000 more than in 2021. Because of this many people are preferring to refurbish their current home instead of relocating to another humble abode.
Nevertheless, revamping your homely nest can still cost an arm and a leg though there are ways to save a pretty penny with the tips and advice section we have put together below.
How to save money and do property renovation?
Set a budget

Setting up a budget is a useful way of keeping a lid on finances to stop them from getting out of control, as you will have a better idea of how much you can afford to put aside for renovations.

How to do this:

Write a list of what you want to renovate and once this is done ask for a written quote instead of an estimate.

What is the difference between a quotation and an estimate?

A quotation is a fixed price agreed set by the tradesperson and agreed upon by the customer before going ahead with any work on a property

An estimate on the other hand is an approximate value which could change by the time the work is completed

Compare tradespeople and get at least three different quotes

Comparing tradespeople, having at least three different quotes, and searching for reviews from other customers is important as well as a good way of increasing the likelihood that you would be getting good value for money.

Once you have picked a tradesperson, ask for a written agreement that has the agreed costs. If the tradesperson says more work will need to be done after the job has commenced, ask for a written estimate and an updated costed contract. It is crucial to do this before any additional work is agreed upon and started.

Do some of the work yourself if possible

Try to cut down construction costs by asking your contractor if the cost can be reduced if you prep the space for the builders in the morning, clean the waste left from construction, or do the demolition yourself.

Many people can do DIY interior painting, tile a backsplash and do other minimal duties. You can learn how to do DIY tasks that are more difficult in nature such as the installation of floors through online videos, home development stores and community colleges or adult schools

However, be mindful of which DIY tasks you put yourself forward to do as some jobs require a licensed contractor, for instance, complicated plumbing and electrical work because they could be hazardous, and you could injure yourself or cause damage to your property. Therefore, try not to overexert yourself beyond what is practical for you to do or you might have to pay someone to redo the work.

Search for bargains

Generally, contractors purchase materials for your revamp from their suppliers. However, if you don't mind doing extra legwork, you could search for bargains and buy the material to save money.

Saving on the restoration of the materials can be done by keeping an eye out for sales, buying floor models of cabinets or appliances, and looking for minor scrapes such as discolouration or dents.

Obtain permits

If you are planning on going big with significant renovations such as home extensions or new construction, electrical, mechanical, and plumbing adjustments, you could need a permission form from the planning and building control departments within your local council.

Although obtaining a permit is not free, this could come at a higher price if you do not get a permit.

If you do not have the required permit, you may be obliged to demolish the work you did and pay penalties before redoing any work. Constructions or developments which have not been permitted may result in your house selling for less than your initial asking price, once you decide to set up roots elsewhere. The permit procedure can be managed by contractors, however doing this, yourself is likely to save you money.

Reuse materials

Hardware

Hardware such as 'doorknobs, light fixtures, drawer handles, bathroom rods' and other hardware types are usually reusable when not in more than one piece. Some of the hardware could be used towards future renovation projects.

Natural wood

Natural wood is both recyclable and relatively straightforward to reuse. Leftover wood can be used for other restoration ventures or can be used to make furniture and other small-scale constructs. For example, if you have a leftover wooden plank, this can be remoulded into a wooden bench or if split into smaller parts can be used for a pergola.

Don't dismiss pieces of wood which seem insignificant as these could be used for decorative pieces such as small shelves, candle holders, picture frames and decorative wall panels.

Do your own painting

Repainting a home does not require you to be a professional at the craft, many people repaint their own homes to save money there are YouTube tutorials on how to paint a home such as a room. And you could also ask the staff at a DIY store for some tips on the best paint to buy and how to start.

One way of giving a new leash of life in your house is to paint the cabinets in your kitchen at a reduced cost.

Refinish floors

Refinishing your floor instead of replacing it is an efficient way to makeover your floor while saving money. Discussing this option with your chosen tradesperson or with another construction specialist to get some advice on refinishing your floor would be a great step.

Renovate your house gradually

There may be the temptation to tick every item off your reconstruction list, however, it is best to start gradually by starting with the most important and affordable tasks first. This also gives you more time to make a more thorough plan and secure the best deals as you focus on fewer renovation tasks at one time.

Amazon warehouse

Amazon warehouse sells previously opened products that may come at a bargain; however, it does come with some risk Amazon do categorize the condition of these products to make it easier for you to choose a product. Amazon warehouse is a good place to look for kitchen appliances and furniture.

Keep your distance from plumbing

Plumbing can come costly, for instance, if you move a sink or toilet which would require re-routing water lines through the property this would affect plumbing, on top of that there is also the extra cost of tearing parts of a hose to route pipes, so it is best to make the most of what is already available to you.

Download the saving app

Intellisaving is an innovative saving app designed with savers in mind, the platform facilitates the integration of multiple saving and ISA accounts. The features range from a personalised dashboard used to navigate users to different screens, a personalised portfolio for users to access a summary of their finances, a comparison feature to compare the best saving rates being offered by banks and building institutes and a watchlist to add saving products of interest during a comparison search on the app.

Have a saving account just for home renovations

The cost of living crisis has spiralled out of control due to substantial increases in costs however, if you can afford to do so have a saving account just for home renovations if you can afford to do so that way what you deposit into the account can be used towards the costs of the renovations once you have enough money for reconstruction, also having a saving account for this purpose also means that you are more likely to be able to afford to pay for any additional work that may be required.
The cost-of-living crisis could worsen in 2023 or it could start to show signs of recovery at some point in the year, if things get worse and the Bank of England continue to increase interest rates mortgage rates will continue to be higher than usual and people wanting to buy a home will be deterred further from buying a house in the unstable economic climate.
However, if things improve and mortgage rates stabilise more people will want to purchase homes.
Nevertheless, renovating rather than relocating is also something worth considering as there are many ways of saving money whilst redecorating and if you revamp your home and decide to sell it when the financial climate improves you may sell your house for more and at the same time will be able to enjoy some of the fruits of your homely makeover while you live in your current home.
In addition, those who rent can also do a home makeover such as painting and adding some new and recycled pieces, instead of purchasing a house during the financial crisis. And should speak to their local authority to find out what building works they can do as a tenant of a rented property.