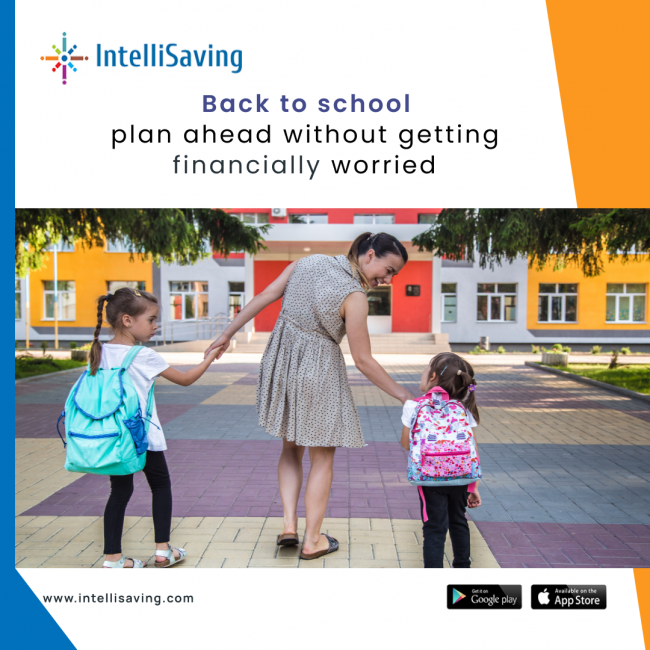 Back to School - plan by saving in advance without getting financially worried
"A good financial plan is a road map that shows us exactly how the choices we make today will affect our future"- Alexa Von Tobel
The start of the next school chapter can cause anxiety for some children, especially if a child is transferring to a new school or returning after a long summer holiday. This can also impact the family as they prepare for the new year. Family action suggests identifying emotions by getting kids to open up by discussing your own feelings and getting them to open up about their feelings as well and then coming up with creative strategies such as making a list of the positives of returning to school or treating the child to keep them motivated. However, this does not have to be costly; this can be through a family game night, there also suggestions online for free games to play.
Anxiety and lack of confidence can also affect adults in terms of managing their finances and can heighten with the cost of preparing the kids return to school. In fact, in the UK, 39% of adults (20.3 million) are not confident in managing their finances, and almost nine million have significant debt, but only a third receive help.
Moreover, the inflation rate has reached a staggering 10.1% in 40 years due to the surging food and fuel prices while households struggle to keep up float. The Office for national statistics revealed that the consumer prices index increased by 10.1% in the year to July this year, a rise from 9.4% in June and has reached double figures faster than the city had initially predicted. The last time the figure was this high was February 1982. Inflation has also infringed the 10% threshold for the fourth time in 70 years, with the other periods being 1951-52, 1973-77 and 1979-82.
The higher cost of living makes it harder for many families to afford essentials such as gas, rent, food and other resources such as school supplies.
Furthermore, the school holidays are ending, the kids are due to return to school soon, and the list of supplies is mounting because of a need for an array of new supplies such as stationery and uniform. For some parents, this can be a welcome return as they have a break from being stranded with the kids when the kids go back to school, but at the same time, it can be a stressful time because of getting everything ready for the return to school days and the cost of back-to-school supplies.
Therefore, it is crucial to find ways to cut back on costs by applying strategies for saving, such as doing a scavenger hunt around your humble abode to find previous years' supplies to see what can be reused and what cannot.
Personal Experience during childhood:
During the summer holidays as a child, I used to ask my parents to take me to funfairs and cinema. My mum would buy some of my uniforms, such as trousers and skirts, in Asda because it was more pocket friendly and buy the rest of the uniforms, such as the dresses and jumpers, in a uniform shop. The uniform she bought would last throughout the year, as I was not one to ruin my uniform.
My favourite part of returning to school as a child was buying stationery such as pencil cases.
How to save on school essentials?
Open a savings account

Open a savings account for your children to save for what they may need for the new school year and continue to save for them throughout the year, as they may need additional money for school trips and more uniforms.

Do a budget plan

Do a budget plan that includes both a saving and spending strategy, and include a budget for any essentials you may need and how much you need to spend; and if you have more than one child, divide how much you will spend per child

Conduct a Scavenger hunt around the house

Conduct a scavenger around the house looking for previous year's supplies which can be reused this year. Maybe involve the kids in this by turning it into a game; after all, you will cover more ground and keep them entertained for a while.

Make a list of what is needed

After you have completed your scavenger hunt, write a list of what the kids need and tick them off as you go along.

Arrange a school supply with friends

Once you have completed your list of essentials needed, see if you can start ticking some of those items off your list by arranging with your friends and neighbours to get together to swap Office and school supplies before going all out on a shopping spree. You or your friends could have an extra pencil case or a set of pencils or pens which you could swap with something else. Discuss a supply swap with your family and friends who have school-aged children, as they may be interested in participating with some supply goodies.

Check-in pound stores for some school supplies

If you really must splash out on supplies, head to local pound stores as they could have everything you are looking for at a reasonable price, from notebooks to pencil cases.

Search for bargains online

Shopping online can be convenient when you lack time to roam around the shops and can help you compare the best prices from the comfort of your home. As part of your research, keep an eye out for discount codes or online cashback offers; this could help you cut costs.

Check whether you are entitled to any support

There could be support available to you, such as grants; this can depend on your financial situation and where you live; your local council or school may be able to assist with the cost of school uniforms or PE kits. Additional information can be found at gov.uk/help-school-clothing-costs.
Hundreds and thousands of parents are in the same shoes, trying to figure out how to navigate between the higher cost of living and back-to-school resources, worrying about how they will be able to afford everything they and their children need.
However, the kids going back to school does not have to be a time of constant worrying; there are many creative ways and strategies, as shown in the tips section, to combat the financial pressures of the higher cost of living and additional expenses, such as back-to-school resources for the children, which could help with the extra cost of having children.