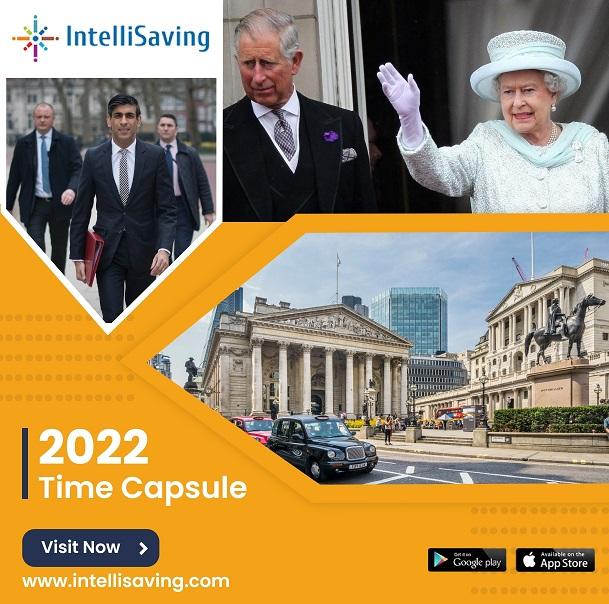 2022 Time Capsule
"Every day the clock resets. Your wins don't matter. Your failures don't matter. Don't stress on what was, fight for what could be" - Sean Higgins
Welcome to our 2022 Time Capsule!
The year 2022 has had its fair share of drama, as it has been another year of unprecedented sequence of events from the war in Ukraine to a substantial bite on the public's financial pockets in both the UK and on an international level. And not to mention that the UK has had not one or two but three prime ministers in the UK within a year.
Several significant events occurred throughout the year; therefore, we have decided to take our readers down memory lane to recap some of the more important events that have transpired in 2022, from earthly departures such as covid related deaths to the passing of Queen Elizabeth.
Covid Pandemic

The pandemic has been put on the side-lines in 2022, compared to 2020 and 2021, where this issue was one of the most talked about problems the world was facing. However, with the economies reopening and everyone returning to life as usual and newspapers and other information outlets setting their focus elsewhere, knowing how the covid situation is shaping up may not be as easy as it once was.

However, when Covid-19 is written about nowadays, it usually relates to long Covid, an issue that many people seem to be experiencing even after no longer testing positive for covid. According to a study conducted by ONS, approximately 2.1 million people in the UK were experiencing self-reported long covid symptoms. 50% of which revealed experiencing long COVID symptoms up to a year after first having or suspecting covid 19.

Self-reported Covid was reported more by those aged between 35-69, females, and those living in more disadvantaged areas.

Travel to and from the UK in June of this year was still lower than in June 2019, before the coronavirus made a robust appearance; however, travellers are splurging more of the cash.

Russia begins an invasion of Ukraine

The first few months of 2022 started with a bang as Russia began its invasion of Ukraine on 24th February 2022. It was setting the precedent of what was to come as a higher cost of living, and the ongoing war in Ukraine has increased energy and food prices because Ukraine and Russia are significant exporters of wheat, corn, barley, and cooking oil. And because wars are expensive, imports and exports become more expensive during a war.

CEBR findings projected that the typical household in the UK would experience a decrease of £2,553 in income in 2022, half of which is because of the war in Ukraine, according to the Centre for Economics and Business Research (CEBR). CEBR has also revealed that it expected inflation to increase to 8.7% in the next quarter and remain double the rate until the second half of 2023.

The inflation rate has increased throughout the year for reasons such as the war in Ukraine and rising food and energy prices. The inflation level as of November 2022 is 10.1%, according to the bank of England figures. The inflation rate that the government gave to the bank of England is 2% which means current inflation levels are more than double the rate set out by the government.

UK sanctions Russia

The UK Government announced a range of economic sanctions on Russia because of Russia invading Ukraine towards the end of February 2022, including trade sanctions. The sanctions came into effect at the beginning of March. Other Western countries also implemented sanctions on Russia.

The economic sanctions mean that the importation of goods from Russia has plummeted significantly from March 2022. The total goods imported from Russia amounted to 33 million in June, the lowest amount since January 1997, when records started. This is a fall of 96.6% when compared to the typical monthly imports in the 12 months leading to February 2022.

Higher Energy costs

The government increased their cap on energy costs in April by 54%; this adheres with international gas prices and is expected to affect roughly 22 million households. The price cap is set twice a year and was anticipated to increase further in October, ahead of the winter months.

The increase in the cost of wholesale gas has meant that providers have substantially increased the charge per unit of energy.

The government announced The Energy Price Guarantee, which started on 1st October 2022. The new scheme has been put in place to try to reduce some of the burdens of the higher increased expenses; this scheme will help lessen the unit cost of electricity and gas households with average energy use in Great Britain typically pay so that they pay around £2,500 a year on energy bills, the energy price guarantee will be in place until April 2023. Households with typical energy usage will save around £1,000 yearly (this figure is based on energy prices from October). Energy providers will be reimbursed the entire amount by the government so that households can save money on energy bills.

The amount an individual customer pays will depend on their energy use, their place of residence, what payment structure they use to pay for their energy and the arrangement they have for their meter use. The £2,500 figure is for a household with typical energy use on dual electricity and gas bills making payments through direct debit.

Every household will receive an automatic one-time only £400 discount on their fuel bills from October. Around eight million low-income households are getting £650 in two payments on certain benefits or tax credits.

Pensioner households will receive £300, and some disabled people will get £150.

A scheme is introduced for UK residents to offer Ukraine refuges a room in their home

The UK has put various Ukraine sponsorship government schemes in place to enable UK residents to support Ukrainian refugees by letting them stay in their humble abodes. The UK Homes for Ukraine programme is a funding scheme allowing people and businesses in the UK to let Ukrainian refugees stay in their homes.

Another scheme that has also been put in place to assist Ukrainian refugees is the Humanitarian Sponsorship Pathway which enables individuals, charities, businesses, and community groups to sponsor refugees from Ukraine. People from Ukraine living in the UK can also sponsor their families to come to the UK.

Boris Johnson resigns

Boris Johnson resigned after three years in prime position; his three years were turbulent, to say the least, with scandals like party gate allegations and evidence coming to light of these parties. People were also dissatisfied with how he managed the harassment accusations against Pincher, his efforts to change the standards system and allegations that he was going against international law, and the handling of the cost-of-living crisis all left the UK public reeling.

Johnson first entered the prime ministerial role in 2019, promising to get a good deal on Brexit after Thresa may failed to do Brexit justice and resigned. Mr Johnson's bid for continued leadership was short-lived due to allegations and his inability, to be honest.

Queen passes away, and Charles becomes king

On 8th September 2022, the Queen passed away at 96. She served as the Queen for 70 years, making her the UK's longest-reigning sovereign. She became next in line to the throne in 1952 and witnessed significant societal changes during her time as Queen.

The Queen's death marked the end of an era and the beginning of a new chapter, with her eldest son Charles becoming king on 10th September, three days after the Queen's death.

Lizz Truss makes history as the shortest-serving Prime Minister

Lizz Truss resigned on 6th September 2022 after just 45 days in the role; she became prime minister after Boris Johnson had no choice but to leave. Lizz Truss's reputation quickly tumbled after the mini-budget and crashed all the markets. She also lost two central ministers and her fellow MPs' support.

During her resignation speech, Truss said she had "a vision for a low-tax, high-growth economy that would take advantage of the freedoms of Brexit".

She also said, "I recognise that, given the situation, I cannot deliver the mandate on which the Conservative party elected me. I have therefore spoken to His Majesty the King to notify him that I am resigning as leader of the Conservative party".

History in the making as Rishi Sunak becomes Prime Minister

Rishi Sunak struck gold on 25th October when he finally achieved his dream of becoming prime minister, making him the first South Asian prime minister in the UK. He is also the youngest prime minister at age 42 in modern political history.

Rishi Sunak achieved a further record in modern records when he became prime minister, as, within only seven years, he was elected as MP and then became Prime Minister.

Interest rates reach new records

The cost-of-living crisis has grown at its quickest speed in 40 years, mainly due to food and energy expenses. The bank rate is the primary interest rate in the United Kingdom; it is the Bank of England's responsibility to set the bank rate. This interest rate impacts other interest rates in the economy, such as lending and saving rates which banks and building societies give.

Interest rates have been significantly low since 2009 when rates were just 0.5% because of the economic crisis of the recession of 2008. The low rates persisted, reaching a record level of 0.1% between March 2020 and December 2021 because of the economic impact inflicted by the Coronavirus pandemic.

However, the Bank of England has been increasing the Bank rate to rein in the growing inflation rates. The bank rate has increased numerous times in less than a year, In December 2021, then February 2022, March 2022, May 2022, August 2022, September 2022 and November 2022.

The bank of England resorted to increasing interest rates again by 0.75% on 3rd November 2022, which is the most significant increase in about 40 years in an attempt to sail through the cost-of-living calamity.

Mortgage rates reach unprecedented heights

The price of houses halted in October this year; before this, there had been growth for more than two years; however, because of a steep increase in mortgage rates and potential property buyers being more cautious of buying in the current economic climate, progress has stooped.

Moreover, in the UK, 2% more property experts are stating that the value of houses has decreased instead of increasing.

However, there are some differences in some regions in terms of price trends. Though prices plummeted in some areas such as East Anglia and Southeast England, inspectors revealed that a rising trend remained in Scotland and Northern Ireland, even though growth speed was sluggish compared to earlier in the year.

In addition, new buyer queries decreased for the sixth month in October, and study feedback was pessimistic throughout the UK. Last year selling a property used to take 16 weeks on average; now, it takes 18 weeks typically to sell.

According to published data, the typical rate for two-year mortgages has soared to slightly under 6%; the UK government had hoped that alleviating the financial market would reduce the burden of home loan costs.

Moreover, brokers have warned that 95% of mortgages could be among the next financial fatalities, insecurity sparked by Kwasi Kwarteng's mini-budget, according to the Guardian (Jones, R,2022).

As a result, Lenders temporally dismantled their lending services after the market turmoil instigated by the 23rd of September mini budget being implemented by retreating 40% of deals during the last week of September. However, most major lenders have re-entered and come up with new deals, such as Nationwide, NatWest, Barclays, Virgin Money, and Skipton. There had been hope that during some quarters of the government's 45p tax, one-eighty and somewhat quieter market conditions might benefit mortgages through cheaper mortgage deals, but unfortunately, this has not been the case.
The higher cost of living has re-established the importance of having a saving pot, especially as the financial turbulence in the UK has put a lot of financial pressure on people's pockets and their financial capabilities. Covid-19 and the war in Ukraine have all furthered the strain on the cost of living, leading to higher food and energy prices. Some people have been able to keep financially afloat by using their savings to pay bills or other extra expenses.
Meanwhile, even though the UK is facing economic turmoil, some households have still been able to extend a helping hand to Ukraine refugees, which shows that in the middle of the struggle, we must pull together to get through the difficult times that are and still lie ahead.
Moreover, this year has also had much political turbulence, with multiple resignations from former prime ministers, chancellors and other government representatives. The current prime Minister, Rishi Sunak, may want what is best for the country and not only his fellow wealthy counterparts but only time will tell what his intentions for the country are and whether he will achieve what he seeks to achieve while prime minister. In addition, the year also brought a new era in the palace, with the Queen's death and King Charles now on the throne.
No one can predict or control what happens next, but by taking steps towards trying to better the future and being more financially stable, the UK public will be more prepared for economic lemons that may come their way. If the challenges have taught the world anything, no matter what difficulties arise, having a stable grip on finances, such as saving, is crucial to navigating many of life's problems.