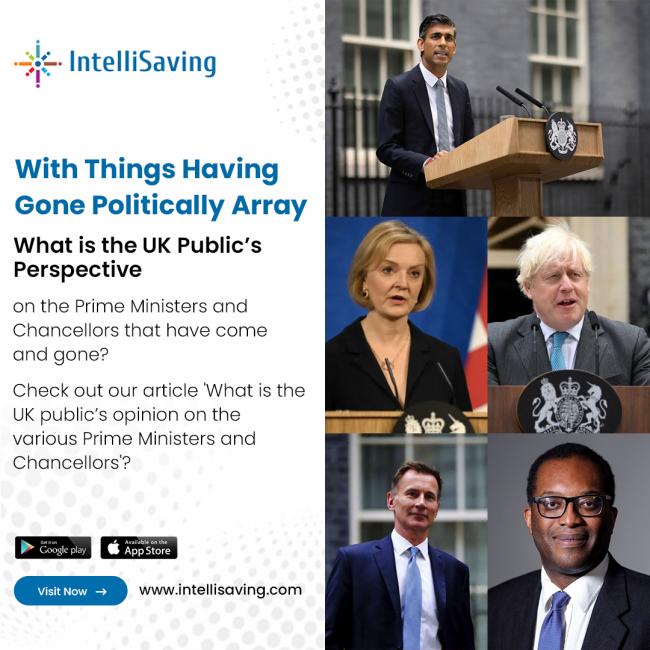 What is the UK public's opinion on the various Prime Ministers and Chancellors?
"Development is about transforming the lives of people, not just transforming economies" – Joseph E. Stiglitz
The UK's political sphere has had much turbulence over the years, from several resignations from MPs, chancellors and even Prime Ministers and controversial leadership and strategies going array, such as the Mini budget, to Brexit and the domino effect of these factors on the economy.
The UK public and many politicians have a lot to say about the actions of current and previous Prime Ministers, chancellors and MPS. So, what was the opinion regarding Lizz Truss's role as Prime minister after the Mini budget scandal? What is the general view on chancellors that have come and gone? And what do people think about Rishi Sunak becoming the next prime minister?
The Ipsos political Monitor, taken 5-12th October, showed that both Previous Prime minister Lizz Truss and Former Chancellor Kwasi Kwarteng received negative criticism from the public as ratings and figures showed that many people felt that their financial circumstances deepened in difficulty since the mini-budget was introduced.
Former prime Minister Mrs Truss faced significant controversy during her short time in the role. The statistics for the British Publics perspectives on Mrs Truss were that 67% were disgruntled with her as Prime Minister, 16% were satisfied, and 17% were unsure about how they felt on the matter. According to a new survey, approximately half of the voters thought Lizz Truss should resign due to the mini-budget negative impact.
The survey Ipsos carried out revealed that 53% of individuals thought Ms Truss should part ways with her role as Prime Minister, whereas 20% believed she should continue in her newfound role.
Moreover, out of the 1,000 survey participants, only 13% thought that Ms Truss had a shot at winning the next general election.
Meanwhile, a separate poll by YouGov found that many Britons thought the Labour Party had a chance at winning the next election.
The results of the findings are that 60% of the UK public are expecting a labour triumph, while only 18% are of the perspective that Torries would win if an election took place.
Meanwhile, Kwasi Kwarteng was chancellor for only 38 days before being substituted by Jeremy Hunt; this came after his mini-budget strategy failed drastically, rocking the UK economy to its core. Mr Kwarteng is Britain's second shortest-serving chancellor (BBC, Jones 2022).
Moreover, before Kwasi Kwarteng was sacked as chancellor, he had one of the worst ratings since Ipsos began collecting data in 1976. The ratings revealed that 65% are unsatisfied with him, only 12% are satisfied, and 23% have said they don't know. Whereas just a quarter of Conservative supporters (26%) felt satisfied, and 45% felt disappointed.
The findings also revealed that just 10% thought they would be in a better position with Mr Kwarteng's strategies, and a third (32%) felt it would be more or less the same. The findings also revealed that (64%) of middle-aged 35–54-year-olds, (70%) of workers in the public domain, (61%) of people with mortgages and (63%) of individuals with no qualifications were anticipating a sharper squeeze on their pockets. Of those presuming that their circumstances will be direr, two in three (65%) hold the government significantly accountable, and 1 in five (19%) deem them reasonably responsible.
The British public was asked to consider everything regarding the government's economic strategies, such as energy bill caps and tax cuts, but also caution was given about increased interest rates, and more than half (56%) of the British Public reported that they expected to face more financial difficulty than before.
On the other hand, Rishi Sunak, a previous Chancellor before Mr Kwarteng, had good ratings and was one of the most popular politicians until his ratings started to dwindle in January of this year. By April of this year, ratings showed that more of the British public was unsatisfied with Rishi Sunak as Chancellor, with 37% expressing that he was not doing the chancellor role justice and 30% saying that he was doing a good job.
Two in five Britons deem him ineffectual, double the amount who said he was incompetent in January 2021; half the population believed he was "untrustworthy" (58%), whilst 19% considered him trustworthy, and conservative voters were divided with 38% to 40% being divided on whether they trusted Mr Sunak. 50% of Britons also expressed that they felt he had done an unsatisfying job, and 21% believed he did a good job dealing with Britain's cost-of-living calamity.
In contrast, the spring Statement painted a more favourable picture of the UK public's perception of Mr Sunak, as 34% said he was doing a decent job, and 25% said he did an awful job.
Decreased financial assistance with energy bills
The Energy Price Guarantee the government launched was initially intended to last two years to cap the price suppliers would charge customers for each unit of energy. However, this energy price cap is now set to last six months to help consumers get through the winter.
The Treasury will review the current support from April 2023. However, perhaps to reassure those concerned about this sudden change, Mr Hunt has said,' There would be a new approach" (BBC Peachey 2022) which would be put in place for those who need it most.
Average households that use 12,000 kWh (kilowatt hours) of gas annually and 2,900 kWh of electricity yearly will amount to £2,500 until the following spring. Compared to last winter, which was substantially lower at £1,277 a year.
The review will unveil what is next in the energy costs and strategies for those needing assistance; the aid will likely cover people on low salaries.
Mortgage rates were already rising before the mini-budget was introduced but were exacerbated further by the mini-budget. Borrowers have warned that borrowers should not expect the dismantlement of the financial statement to have an instant effect on mortgage rates, as mortgage rates are unlikely to drop soon.
Moreover, lenders will probably tread on waters with a tight safety net attached by waiting to see how the changes will impact the markets and what the Bank of England will do next with interest rates.
If any lender decides to reduce their rates now, this might be swamped with demand. But will not make a difference to the overall picture.
Inflation is still soaring, and the bank of England is expected to continue to deal with this through higher interest rates. However, typical rates have remained the same in the last few days.
The projections from experts at Cornwall Insight advise that for households that do not get any support, an average yearly energy bill might be roughly £4,347 during spring, decreasing to £3,722 next winter. Any adjustments will influence this estimate of wholesale costs.
The income tax cut proposed by Mr Sunak and Mr Kwarteng has been cancelled. Before this, Rishi Sunak said in the spring while he was chancellor that he would lower the introductory income tax rate by 1p in the pound before the current Parliament ended in 2024.
However, Rishi stepped down from his role as chancellor, so he will not be implementing this change as chancellor. Kwasi Kwarteng was next in the position of chancellor and claimed this change would be implemented earlier in April 2023 but was sacked before this change could be put into effect.
Jeremy Hunt has stated that the introductory rate of income will not be cut and will remain at 20% for the foreseeable future. There has been a surge in mounting bills and an increased cost of borrowing, and many people have found themselves paying into higher income tax bands due to thresholds being at a standstill (frozen), which will persist.
In addition, the suggested obliteration of a 45% extra tax rate, paid by those who receive more than £150,000 per year, was rejected.
The current chancellor Jeremy Hunt has dismantled many of the previous strategies previous chancellors had introduced but will this be favourable to the economy or have little to no effect on the damage already done to the economy?
It will be interesting to see the public perspective of Jeremy Hunt, as previous chancellors did not quite shape up to public expectations.
However, it is essential to note that although Former Chancellor Kwarteng and Mrs Truss miscalculated the mini budget's effect on the economy, they did this with the public's best interests in mind. According to the Guardian, Mrs Truss said in an apology that she wanted those struggling the most to receive support as soon as possible. The mini budget was launched mainly due to this.
Rishi Sunak becomes the next Prime Minister
The tables have turned, and Rishi Sunak is the new Prime Minister. But what are the publics perspectives on the new Prime Minister, do they believe that he has what it takes to take the UK out of the steep waters it currently finds itself. Or do they feel that the UK is about to drown further into financial turmoil?
You.Gov which is a global research and statistics analytics group asked people from the public about their opinions on Mr Sinak being prime minister. The poll found that the British public was divided on whether Mr Sunak is the ideal person for the job, as a quarter were expecting him to do the role justice, 29% think his performance would be average and 29% believe he would be subpar or terrible.
Public opinion may be spilt, however the reality is he is the Prime minister and public perception regarding Mr Sunak is still rosier than that of his predecessor Lizz Truss, who had 52% of respondents believing she would do a substandard or poor job before her triumph in Tory leadership race.
Most people (68%) believe Sunak will do a better job as a Prime minister than Mrs Truss. They also believe that he will be an upgrade on Boris Johnson, with 41% stating this, though 30% think he will be more less the same, 15% think he will be worse than Boris.
Rishi Sunak could put the lowering of the introductory tax rate back on the agenda now he is Prime Minister as he was the one that initially introduced this notion.
If there is any inspiration to be had regarding Rishi Sunak becoming Prime Minster, is that persistence and determination besides the setbacks can sometimes be the key to achieving a goal.
The political and financial uncertainty that has transpired in recent years especially in 2022, with the UK having had numerous prime ministers and chancellors and interest rates being changed multiple times has further exacerbated the importance of savings as savings serve as a financial cushion if the unexpected rears its ugly head as those with savings have an additional source of funds in which to turn to in times of need.