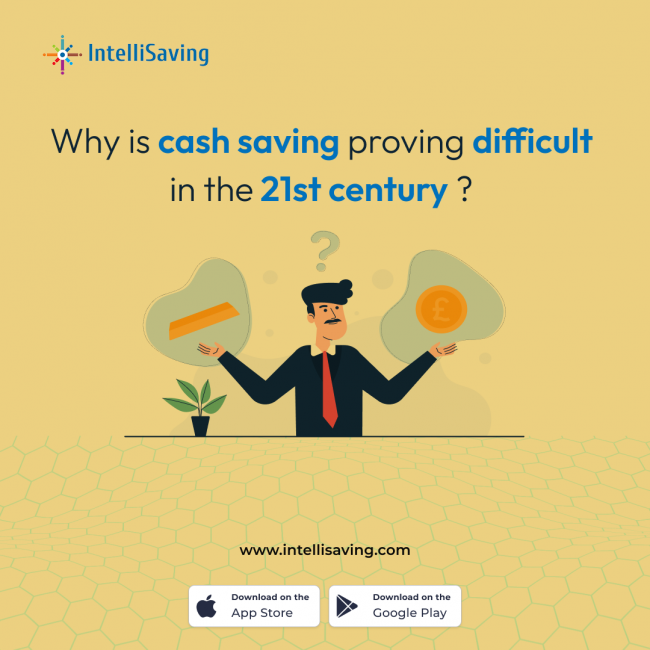 Why is Cash Saving proving to be difficult in the 21st century?
"Sometimes the smallest step in the right direction ends up being the biggest step of your life. Tiptoe if you must but take the step". — Naeem Callaway
The UK is a country that is more inclined to spend than save; compared to other countries, the percentage of savings to income is low, with around a third of households having no savings. The 2008 economic recession has contributed to insufficient or no savings and reduced people's motivation to save because of lower salaries not being enough for the rise in the cost of living, which has increased significantly through the years such as transport, electricity and gas bills and deduction in interest rates. This means that those wanting to save must work more to be able to save and in return for lower returns. The challenges that people are facing in are saving means that if they run into an unexpected financial cost, such as paying back work tax credit due to being overpaid, or if something else happens which is out of their control, such as being out of work due to poor health this would cause an extra dent in their pocket.
Approximately four in ten adults have less than £500 in savings to pay towards an unanticipated bill. It has also been found that one in four working-age people have savings that would be equivalent to three months' salary if they were made redundant.
Saving is something that most of us think about at least once in our lives; in fact, some start saving from a young age with piggybanks. But to maintain the saving habit or being motivated to start the saving journey takes persistence and dedication to save.
IntelliSaving:
IntelliSaving is an intelligent saving application with a difference; they strive to go above and beyond the needs of users through working tirelessly on best updating rates daily and creating innovative ideas with every saver in mind. The money-saving app integrates multiple saving and ISA accounts simultaneously and has both a manual and non-manual option for adding accounts and is also home to several features such as a comparison tool to compare the best rates in the market. In addition, the website has Money Saving Tips articles for you to indulge in.
#BestSavingRates #MoneySavingApp #MoneySavingTips
IntelliSaving's Research:
IntelliSaving recently conducted some research to find out why people are less confident in saving; among the perspectives of people on motivation to save, we found that one found interest rates are unappealing "Because interest rates are so low, it doesn't seem that interesting, but if the interest rates were high, then you'd probably look into it". This response links the reluctance to save and low-interest rates as people feel less motivated to save when there is not much incentive to save. With the savings interest rates soaring high, perhaps it's the best time to make your savings strategies and earn a good interest rate on your hard-earned money.
Moreover, another person wrote, "It's a minefield for a- all the terms and lengths of time, certain conditions with certain accounts and some of the words and descriptions can be misleading". This viewpoint and other perspectives we saw show a gap in understanding when it comes to some of the banking terms associated with specific accounts, which shows that because of the lack of knowledge, this can deter people from wanting to save and that banks and building institutes are not making information as clear to people as they should. Thankfully intelliSaving helps by looking at all these factors and lets you choose exactly what you want and that too in a easier way.
Money Saving Tips:
Write down all the reasons why saving is a worthwhile investment for you

As mentioned, being motivated to save can be challenging for several reasons, so one of the ways to help you be more optimistic about the saving journey is to write down all the reasons saving would be beneficial for you, for instance, saving can bring you closer to a dream holiday

Have you considered trying a saving challenge?

The 1p challenge involves saving a penny on day 1, 2p on two, 3p on day three, and carrying on with this method of saving throughout the year, which could add up to over £650 per year.

Consider a zero-spending weekend

No spending weekend, yes that's right, allocate yourself a weekend with no saving, once a month if possible, and replace paid activities with activities within the comfort of your own homes such as movie nights, home karaoke, drawing and games.

Are you tempted to indulge yourself in spending? Why not save the same amount first?

The temptation to overindulge spending can creep up from every corner, so before expenditures, such as that oh so lovely top you saw in that shop window display the other day, why not save the amount of the item/s you want? For instance, if the top is £25, put £25 into your savings account then spend. Alternatively, you can save on other stuff you usually spend on and then deposit the extra amount saved into your savings account.

Remember the Savings first spend later strategy

The save the first strategy means that you apply a saving strategy before a spending one because saving first increases the possibility of being able to set money aside for saving as you then spend what is left after saving.

Use saving apps such as IntelliSaving

Saving apps such as IntelliSaving help you keep on top of your finances, especially when you can have all your saving accounts and interest-bearing accounts in one place. You will also be able to compare different products on the platform to ensure you're getting good value for money with the saving accounts you currently hold.

Go beyond the high street banks

High street banks may be the most popular, but smaller banks tend to offer higher interest rates on saving accounts and apparently have better customer approval

Introduce a spare change jar

The spare change jar can be used as an extra incentive to save by putting loose change in the jar, bearing in mind that the more significant the values of the pennies you put in the jar, the more you will have once the jar is full.
The mission to save can come with many drawbacks; however, when saving is done consistently, you will find that your saving will add up and that eventually, you reap the rewards of your dedicated saving. The lack of knowledge around the different savings account options needs to be addressed; banks and building institutes could make it easier for people to understand terms and conditions, AER Gross and other aspects of banking by introducing virtual tutorials on their websites on different aspects of banking.
Banks and building institutes could also encourage people to come into branches more through adverting the benefits of going into the branch and making it easier for people to find out information in branches by not charging for people to speak to financial advisors. Because although going digital is beneficial for most when it comes to resolving issues online, it can be a minefield as often, what the customer is communicating is being misunderstood.
The economic crash of 2008 and the Covid-19 pandemics effect on the economy has worsened the ability to save as both presented more challenges such as job losses, lower incomes and more reliance on universal credit; however, there are different ways to cut back the pennies so that you have more money left in your pocket. The most crucial step in any journey, such as the saving one, is the first step because once you take that first step, it usually leads to more steps that can lead to results that present you with a more favourable financial forecast over time.