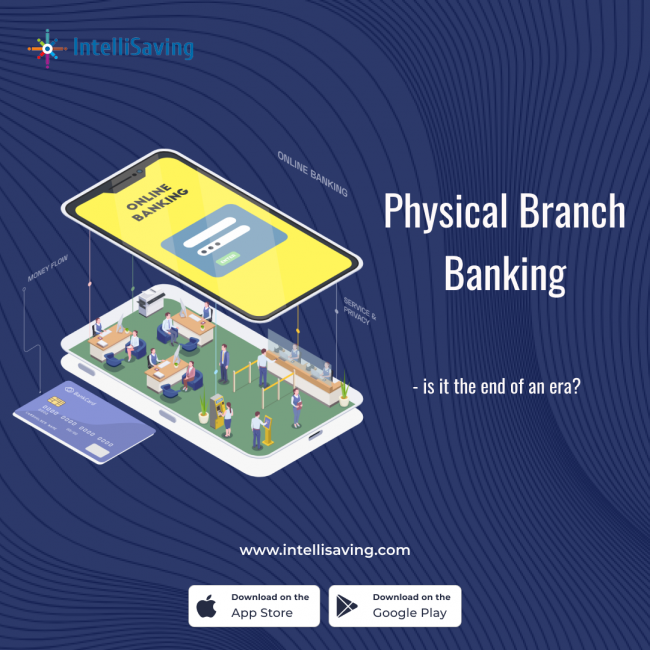 Physical/Branch Banking - Is it the end of an Era?
"The challenge for banks isn't becoming "digital"¬- it's providing value that is perceived to be in line with the cost- or better yet, providing value that consumers are comfortable paying for"- Ron Shevlin.
Banking has been around for a very long time; Banking was launched because wealthy people wanted to keep their money in a safe place. Banking was also beneficial for making it easier to trade, distribute wealth and gather taxes. Banks played an essential part in this and continue to contribute to these services today. Empires needed the means to pay for foreign goods and services that would not be difficult to exchange. As time progressed, coins of different sizes replaced delicate paper bills. However, coins needed a secure place to be kept, and ancient homes did not have steel safes or secure places to keep the money, though even in the 21st century keeping cash at home is still not the safest place to store money. Affluent people kept their coins and jewellery in the basements of temples. They felt their money was secure because the temple was frequented by priests, temple workers and had armed guards. According to Historical records, Greece, Rome, Egypt, and Babylon indicate that temples lent money and kept funds safe. Temples were often the primary source for financial needs, which posed a problem when wars would occur as they were raided.
Coins were easier to exchange than other exchange methods, such as 300-pound pigs. Therefore, a group of rich merchants started lending coins for interest to those who needed it. Temples usually dealt with substantial loans, including numerous sovereigns, while wealthy merchants dealt with the rest.
In the early days, banks played a critical role, but with the rise of the internet, the need for physical branches has declined significantly. Furthermore, opening branches is quite costly; therefore, many branches have been forced to close their doors. According to 'Which', which has been tracking bank closures since 2015, the demand for digital innovation has added to the struggle to keep branches open. Banks and financial institutes have closed (or scheduled a closure) of 4,851 banks since 2015, approximately 54 banks a month. The banking group due to close the most banks by the end of 2022 is the NatWest Group, which consists of NatWest, Royal Bank of Scotland, and Ulster Bank, with £1,154 banks by the end of the year.
Other banking groups such as the Lloyds Banking Group, which includes Lloyds Bank, Halifax and Bank of Scotland, have closed 723 locations, increasing to 770 banks in 2022. In addition, Barclays, an independent bank, has seen the most reductions, with 841 branches being closed or planned to close by the end of 2022. The number of bank closures peaked in 2017, with 868 fewer banks on the UK's high streets, more than 70 banks a month. The following year 792 more branches closed.
The level of closures decreased in 2019, with 444 branches shutting down. The pandemic meant that 2020 had the most minor closures as banks decided not to close as many banks. Barclays did the most closures in 2020 (105), TSB (91). However, less than three months into 2021, the number of branch closings planned overtook 2020, and numerous banks revealed that further closures were scheduled for 2022.
In 2021 and 2022, Barclays would have closed 256 banks in total, TSB 225 and Santander 111. M&S stopped introducing current accounts and closed every in-store branch in summer 2021. Meanwhile, Metro bank has revealed that they will be closing three banks in 2022, which is the first closure since 2015. Overall, 736 banks were closed by the end of 2021, with a further 338 closed or planned to close in 2022.
IntelliSaving:
IntelliSaving is a money-saving app that strives to meet every saver's saving requirement. The challenge for many is handling multiple login credentials and tracking different accounts; therefore, IntelliSaving facilities the integration of multiple saving, and Isa accounts on one platforms. The platform also displays the best saving rates across different saving categories, such as Easy access on their app and website. They also show the best ISA rates. IntelliSaving was launched as the missing piece in the savings department.
In 2020, Diebold Nixdorf conducted research that found that customers are expecting the following from their banking branches, service that is faster (23%), less queuing time (26%) and longer opening hours (31%). However, 41% of respondents expressed that they were 'comfortable' using banking apps for their services.
On the other hand, 35% of consumers said they would want physical branches to always be available to them; one in 10 (10%) shared that they will never rely on online banking services entirely, which shows that branches are still essential to have for some people.
The research shows two sides of a coin, one where branches have been on the decline and that there is a link between the demand for online banking and the closures of these branches. On the other hand, the research also indicates that some still find physical branches useful to their needs. Moreover, it is crucial not to allow the branches we still have to disappear entirely off the high street because not everyone is technology savvy, as some older generations benefit from going into the branch. And because, as the research suggests, there will always be people who prefer to have access to a physical branch. Plus, Customers can get better interest rates if they go into home branches near them, which is an incentive for keeping as many branches open as possible.
Banks must cater to both the needs of those who want to go fully digital and those who feel that having a branch they can visit is beneficial to their needs. By balancing and developing their offerings to cover more consumers' needs. According to a Times article, campaigners have disclosed that closures have meant that people living in some remote areas were left with less access to essential services. In contrast, others believe that the closures of branches are due to a positive digital transformation.
The future of physical branch banking lies in both the hands of the consumer and the banks themselves; it is up to the consumer to express a more significant need for physical branches to stay open and up to the banks to listen and adapt their services in a way that works both online and in person.